What?! I'm posting on here again? Double what?! It's a book review?! Yup! I was going to film a video review, but I feel like I would be able to articulate my thoughts better with a written review. So, here we are.
Let's just get into the review so we don't spend too much time chatting.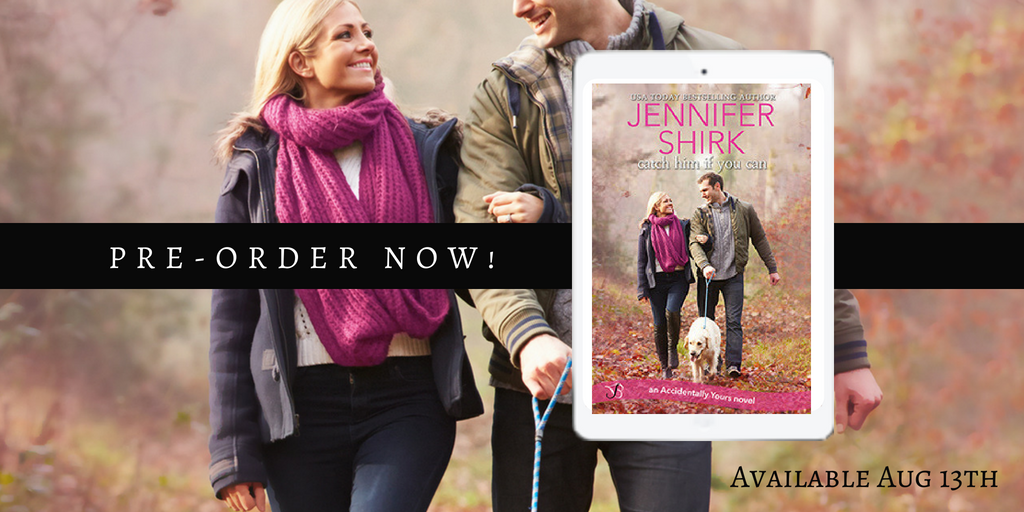 Today, I'm doing a review for the second book in Jennifer Shirk's Accidentally Yours series, Catch Him If You Can. Before getting into this review I would like to say that I did not read the first book and that made me kind of sad. Spoiler alert to my thoughts: I loved this book. I'm sad that I was spoiled for the first couple, though. So, if you are planning on reading this book, I would personally recommend reading the first book in this series. Just so you can enjoy even more of Jennifer's writing.
You can purchase this book here from Amazon for $3 today if you think you would like it. If you are looking for a really quick read, I think this is a good choice. But, let's actually talk about the book and my thoughts now.
Synopsis
Catch Him If You Can is the story of two friends who decide to pretend to date so that Wade can get the old ladies to stop trying to match him up with women and to convince a client that she is worthy of being their wedding planner.
I have been trying to break my reviews down into categories so I can look at all the pieces that make up this book to get to the overall rating I feel that it deserves. This also will help people to decide if the book is for them as well. So let's get into this breakdown.
Writing
If I had to give the writing a star rating out of 5, I would give it a 3. It wasn't anything too extravagant, but it wasn't overly simplistic either. I feel like it was a nice balance. It was easy to read and made the reading experience go by quickly. I didn't give it higher than a 3 because I felt like there could have been a bit more. At times it seemed like it was just… meh. I just wanted a bit more from the writing.
Story
So, now moving onto the story itself. I gave this 4 out of 5. I really enjoyed the story. It wasn't anything too original, but that's what I loved. A veterinarian lost his wife to cancer several years before, but hasn't dated much since then. This causes all of the older women in his town to try to hook him up. He's sick of it and needs a way out. After asking his sister's best friend, Arden, if she'll pretend to be his girlfriend for a while-and her saying no-Arden ends up in her own little pickle, so to speak. Her wedding planning company is being scrutinized after a man ran out on his bride the day of their wedding. No one wants to sign on with her company because of this. When a potentially huge client comes in, Arden will do anything to convince her that she's worthy of being her wedding planner. This leads to Arden claiming that she herself is engaged! Except now she needs to convince Wade to not only pretend that they are dating, but pretend to be her fiance.
This story is a  very cute romance between these two. The only issue that I really had with it was that there were certain parts that seemed really rushed to me. I don't want to spoil anything, but there was a point where the characters seemed to have made a dramatic change and it just didn't seem to fit. And overall, the ending was just really rushed. Some things happened that I had hoped wouldn't, but they did.
Characters
I would give the characters 4 out of 5. They were well fleshed out characters that complimented each other well, in my opinion. Besides the few things that I had issues with in the story, they were well done characters. Very likable and the romance between the two was dreamy. And, I mean, come on. Who wouldn't want a Wade in their life? Nerdy vet that not only loves animals but also loves Doctor Who? Sign me up.
Personal
I can't give a review without giving my own personal opinions, now can I? I gave this 4 out of 5. I loved it so much. It was a quick and easy read that I just flew through. I loved every second of it. Even the parts I had issues with, I really enjoyed.
Wrap Up
Overall, if you really enjoy romances that don't overly emphasis sex (there aren't any sex scenes in this, so thank you Jennifer for that), this may be for you. If you're looking for a realistic swoon-worthy male, this is for you.
I ended up giving this book 4 out of 5 stars. It was so good, in my opinion.
Again, make sure to check out the link to the Amazon or use the GoodReads link to add it to your To Be Read.
I hope that you enjoyed this review. Let me know what I can do to improve them and what books you would like to see reviews for. Also, make sure to check out all of my links down below! I'm most active on Instagram and YouTube. So make sure to follow and subscribe.
You can find me at:
BookTube: https://www.youtube.com/channel/UCrJCDZcXiHWlyRev59lqPdA?view_as=subscriber 
Instagram (@acourtofbooksandlove): https://www.instagram.com/acourtofbooksandlove/
Twitter (@courtofbooklove): https://twitter.com/courtofbooklove
GoodReads: https://www.goodreads.com/user/show/60113837-amanda-stelter